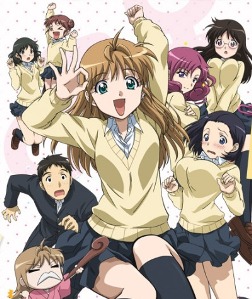 This page contains a full list of all the episodes of the anime
B Gata H Kei
,
Episode 01 - Boy Meets Girl. Let Me Have Your 'First Time'!!/ Big Gambit After School! Why Don't We Start with a Kiss?
Episode 02 - Oh, Yeah! Let's Go to a Pool. You Wanna See Me in a Swimsuit, Right!? / Here Comes the Rival! Who's That F-Cup Girl!?
Episode 03 - Suddenly So Close in the Darkroom! Kinda Dangerous Club Activities!? / Passionate School Festival! I, Yamada, Will Be the School's Queen!
Episode 04 - Romantic Christmas Eve! What Does the First Kiss Taste Like?! / I Can't Go Back Empty-Handed! Let's Go to the Make-Out Park!
Episode 05 - Yamada's Level Increased! She Learned How to Deep Kiss! / Work on Your Naughty Power! I've Never Felt a Sensation Like This Before...
Episode 06 - Kanejo is Coming! I Can't Stand That Sparkle! / Behind That Rosy Smile Is... Kanejo's Dark Secret!
Episode 07 - Major Duel in School Swimsuits! I'm Not Gonna Lose Against You! / Memories of a Summer Day... Yamada Returns to the Wild!
Episode 08 - Yay! It's a School Trip! No Chance to Be Alone... / I Have to Tell You That I L... The Trip Causes a Great Fuss!
Episode 09 - Oh No! In Front of Everyone... I Never Said I Didn't Like You... Autumn / Put Your Hopes in Field Day! Suit Yourself... Autumn
Episode 10 - The Kanejo Family! Richy Brother's Sparkling Secret! / On My Way to Love? Don't Hit on My Kosuda!
Episode 11 - Year 2 Class H's Christmas Eve! Take Me to Bed! / Kanejo Is Watching?! A 'Live' Broadcast That Pushes the Limits!
Episode 12 - The World Revolves For Us! Goodbye... B Gata H Kei / Yamada Turns Into an Angel! Farewell! B Gata H Kei!